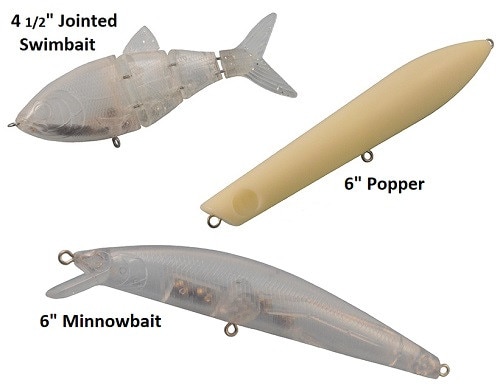 Paint your own custom colors and save big on these top quality plastic lure blanks. Choose from a variety of popular styles. Once painted, just add hooks and they are ready to fish. These bodies are premium quality and swim true. Sold per each.
6" Pencil Popper. Choose from plain plastic or silver plate. Super loud rattle chambers!
5 ¼" Slammie. Very popular topwater lure. Rattles included.
5 ½" Deep Crankbait. Get down deep! Body section measures 3 ¼". Scale pattern, gills and recessed eye sockets – clear plastic.
6" Minnowbait. These lures are deadly! Why pay retail?? Premium quality and action. Shallow runner.
6" Deep Walleye Runner. Great for casting or trolling for walleyes in the deep. Rattles included.
4 ½" Jointed Swimbait. Wow – they don't come much nicer than these! Four section bait shows fine detail and tail section is made from softer plastic for unmatched action. Rattles included.
Sales Unit: 10 Pack